MOT Test – What does it Test?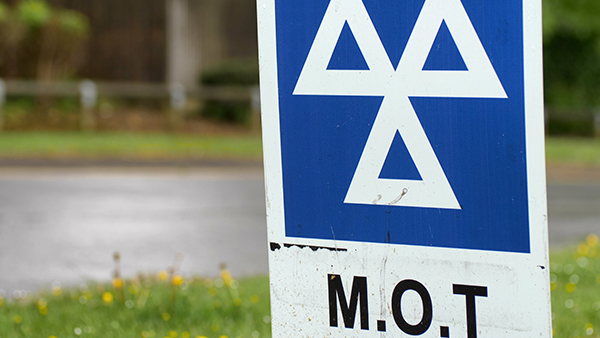 An MOT covers key areas such as brakes, exhausts and tyres. It will include the following:
Exterior
The general overall condition of the vehicle must be free from corrosion or damage with no sharp edges.
Required number of mirrors is in place and checked for condition and security. Mirrors must provide a sufficient enough view of the road.
Your boot or tailgate must be secured when closed.
Registration plates will be checked for condition, security, colour and characters being correctly formed and spaced. Registration plates must be fitted to the front and rear of the vehicle and clearly legible to someone standing 20 metres away from the vehicle.
The vehicle's bonnet must securely latch when closed.
Exhausts & Fuel
The fuel system must be free from leaks and the fuel cap must close securely.
Exhaust emissions of carbon monoxide and hydrocarbons must meet legislative emission standards according to the age of the vehicle and fuel type. A visual check for any excessive blue or black smoke emitted from the exhaust will also be carried out.
Exhaust system must be secure and complete, without any leaks and silences effectively.
Electrics
A thorough check of the electrics will include any visible electrical wiring, connectors and battery. Operation of devices including electronic parking brake, Electronic Stability Control, steering lock, Tyre Pressure Monitoring System, auxiliary vision devices, mirrors and headlamp levelling/cleaning.
Dashboard warning lights are now covered in MOT checks. This applies to (where fitted) headlight main beam, electronic power steering, Tyre Pressure Monitoring System, brake fluid level, air bag, seat belt pre-tensioner, electric steering lock and SRS malfunction.
A speedometer must be fitted. It will be checked that it's free from damage and is adequately illuminated.
Interior
All compulsory seat belts will be checked for type, condition and security
Front seats must be secure, and all seat backs must be able to be secured in the upright position
Doors must latch securely when closed. Front doors must open from inside and outside the vehicle and rear doors from the outside. Hinges are checked for condition and security.
Lights & Visibility
The overall condition of the lights will be checked, along with the operation for cleaning, self-leveling and security. The MOT check will also review the headlamp aim and main beam warning light.
The MOT tester will check your vehicle's wipers and its washer bottles. Both must be in full working order to give the driver a clear view of the road ahead.
The windscreen will be checked by the MOT tester for any chips or cracks. It must give a clear view of the road ahead, without any damage or obstruction larger than 10mm directly in front of the driver. The maximum damage size elsewhere within the sweep area is 40mm.
Safety
Correct and efficient use of SRS Components, including the operation of airbags, seatbelts, pre-tensioners, load limiters and warning lights.
The horn will be checked to see if it operates correctly, effectively and is of a suitable type
The condition of the vehicle's engine mountings will be checked.
The overall efficiency of the brakes will be examined during the MOT check. This includes the brakes condition, operation and performance checks.
The overall condition of tyres and wheels will be thoroughly checked, alongside the security, size, type and tread depth. Tread depth must not be below the legal limit of 1.6mm. The tyres will be checked for any visible lumps, bulges, tears and cuts.
Your vehicle (if manufactured after 1980) will have a Vehicle Identification Number (VIN) present. The MOT test checks this number is present and legible either on a VIN plate or displayed on the body or chassis.
Steering and suspension must be of satisfactory condition and operation. If a locking device is present on the vehicle's steering, it will be checked to ensure it only locks when the vehicle is stationary without the engine running.
Have you spotted a part that will potentially fail? Here's some guidance on how to avoid MOT failures. If you believe the vehicle is damaged and the repair costs will outweigh the value of the vehicle, why not consider selling it for salvage? Simply enter your details online and you'll receive an offer within minutes.